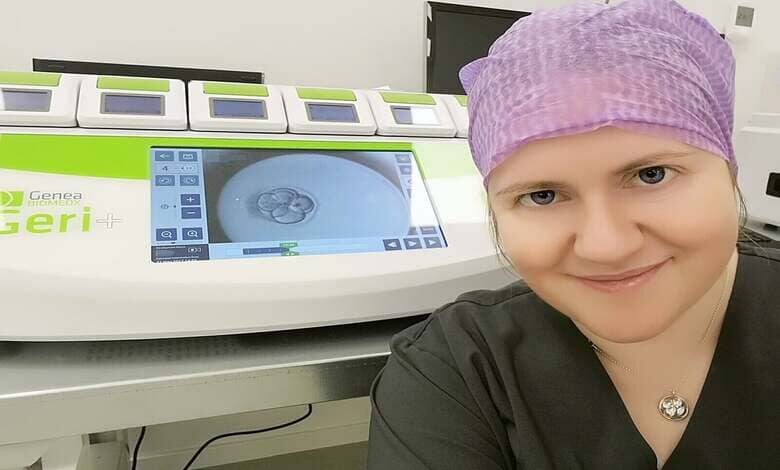 Ralitsa Dinkova, Embryologist, is interviewed for in vitro Bulgaria
Ralitsa Dinkova, Embryologist, is interviewed for IN VITRO BULGARIA, the largest web page for assisted reproduction in the country. She has been working for six years in ART in Bulgaria, now she is experiencing working in the largest IVF clinic in Norway – Klinikk Hausken.
What part of your job do you enjoy the most?
To be an embryologist means you are a psychologist before scientist. Our work is to take care of those patients who are longing to have the most sacred thing in life – a child. Handling their embryos and giving our absolute best to achieve a positive result for the couple is an imperative part of my job. However, what is equally important is the dialogue we have with our patients and keeping them informed on how their embryos are developing, taking decisions together, and of course, sharing their happiness that follows a successful result. My favourite thing about the work is to see the happiness in our patient`s eyes. In that moment, I know that each minute spent in the lab has been worth it.
You were working in Bulgaria, now you are experiencing working at a lab in Norway. How do you find it?
Well, first of all I should say that when you are a responsible person, you will work well anywhere in the world. Working in Bulgaria is a bit stressful due to the patients being very stressed with everything they go through during an IVF cycle. The procedure is not cheap and this is the main cause of their stress. The more stress the body experience may impact their chance to succeed. My experience after working at a Norwegian IVF clinic is that people are very calm and they know we are here to help them. Of course, we have the newest technology in the lab and each year we develop our skills by visiting scientific conventions and workshops which is reflected in our success rates. As the biggest clinic in Norway, we always work hard to provide our patients with the best care. Our aim is to make our patients feel they are part of the process and feel safe and taken care of. Through great patient care, good success rates and minimal treatment prices I feel we achieve this. Actually, Klinikk Hausken has the highest successful rate in Norway, regarding the SHDIR report this year.
What is the most important thing you do every day at work?
Timing is the most essential part in our work. This requires extremely good communication between all different sectors in the clinic: administration, nursing, medical, counselling and embryology teams. As embryologist, the most important role in my work is to pay great attention to details when handling eggs, sperms and embryos in the laboratory, as it is essential that they are kept at special conditions i.e. temperature and gas concentrations, especially when outside of the incubators. Norwegian rules are also very strict when it comes to minimizing any chance of probe contamination. It is sometimes easy to think that we are working alone in the laboratory, but correct management of patients involves the interaction between all teams and this is another enjoyable part of my job, working with other types of professions.
What is your ideal day off?
In fact, we almost don't have days off. At Klinikk Hausken the embryologists work shifts as our job requires our presence in the lab every day, no matter if it's a holiday or weekend. We need to check embryo development, the conditions in which they are being kept, preparing the media for the next day and so on. Of course, there is also an alarm system, sending us a message on our mobile phones if the conditions even slightly changes so that we can get to the lab and check ASAP.
But, back to the question, an ideal day off for me is a day at home with my husband and my dog, cooking together or having nice time outside. Sometimes I wish I had more time to spend with them.
Who do you admire most?
`Admire` is a strong word, I think this is my husband (laughing). Actually, there is one person I really admire. I admire her strength, her power as a scientist and as a woman. This is my Lab Director Shabana Sayed. I would say she is the busiest embryologist in Norway!
As well as being a very committed embryologist, a responsible person and quality manager for our clinic, she also serves on numerous embryology committees and has put down an amazing amount of work on the clinic's own timelines which has helped made Klinikk Hausken the success it is today. I love her personality, her positive and good hearted spirit.
What do you feel is your best strength?
I asked one of my colleagues this question and she said my 'ability to remain calm while multitasking' was my strongest attribute.
If you could be anywhere in the world right now, where would you be?
Right here, in my lab.